Picture it: Bavaria, 2017. A cold wind stirs the snow over the nightly hills, and inside a charming, rustic inn a small group of American soldiers huddles up to friendly natives. The intoxicating aroma of ancient Bavarian brewing art mingles with the scent of pine branches, wet dog, and just a hint of cowshed. In the background a small TV set mumbles on about soccer stats, occasionally acknowledged by the indigenous population with a small groan or a satisfied huff. All is peaceful. Until … a strange man appears on the screen, his frowning visage framed by the familiar colors of the American flag. The soldiers tense. One of them discreetly scans for viable escape routes. But they are in luck. As the man with the toupee waves and gestures, his uncharacteristically stilted speech drowned by the far more pleasant German translator, the natives barely acknowledge him beyond an occasional eye roll. They have more pressing matters to attend to – one of the hunters has brought in a boar that afternoon, and there is disagreement over the sauce (Madeira. The answer is Madeira). The soldiers however keep casting wary glances at the TV – this is their Commander in Chief speaking. And his speech, painfully obvious as it is that he is parroting someone else's words, does not do much to soothe their uneasy hearts. But whether it is the famous Bavarian aplomb with which the natives dismiss the strange man, or the rich, mouthwatering scents that begin to waft from the kitchen, or the unbroken stream of beer glasses flowing forth from the gates of Bavarian heaven – slowly, the soldiers relax. Let themselves be drawn back into the magical realm where peace on earth is found among the clinking of glasses and the telling of badly translated jokes, and a muddy dog snoring beneath the table…
When you least expect it – German Blitz
"So, exactly how is 'America First' different from 'Deutschland uber alles' anyways?"
It wasn't so much the question itself – left field though it was – that caused the delicious Weizen beer to end up in the wrong pipe, and prompted some good natured "Americans can't handle ze real beer" heckling as I desperately tried to stop coughing before Max the volunteer fireman succeeded in pounding my lungs out though my ears (the Bavarian approach to people choking on their beer is as robust as it is effective – a slap to the back that plants your face on the table, followed by what feels like an elephant performing the "In the air tonight" drum-solo on your ribs until shock and survival instinct prompt a huge intake of air and frantic "I'm fine!" waving of arms).
It was rather the casual, 'a propos', tone of the question. The mildly inquisitive expression, as if Mr Florian were trying to puzzle out the reason why Americans shun
the delicious Obazda but will eat every scrap of liver cheese in sight. It was the fact that the very same people who, for all their nonchalant approach to any number of sensitive subjects, almost unilaterally shut down at the mention of Hitler, Nazis and suchlike, suddenly tossed this Blitz-question into an unsuspecting American's lap. It was admittedly also the implication. The unspoken but perceived "Why are you allowed to say this, but we are evil when we do?"
My first instinct was to say "Because we don't mean it like that!" Not in the "Germany above all" sense. The "We are better than everyone else" sense.
But with a band of agreeable Teutons waiting patiently for the American to gather and line up her scattered ducks, I choked on the words worse than I had on the beer.
How is it different?
Because it's US saying it
It was the second thought popping into my head, and it felt imminently reasonable. Cheap, yes. A classic cop-out of the high horsed sort. But it makes sense, right?
We're the country who fought the Nazis, for crying out loud. We're the Shining City on
the Hill. The champion of the underdog, the tired, the poor, the huddled masses yearning to breathe free. We've sacrificed our own, all over the world, to help others.
Yes, fine, the Brits fought the bad guys, too, and the French and the Russians did, after the Reich had overrun them with brutal German efficiency, but we saved the day, right? And maybe others have done some good around the world since those days, and built functioning democracies with Liberty and Justice for all, but we're the ones who came up with it. We the People got the ball rolling.
So we get to say it, right? We got the moral high ground, the highest horse in the stable. If we want to put this awesome thing first, this admittedly still flawed country that nonetheless is ours, and the only one we got, and it's a good thing we have … we get to say it. Right? Because it is different.
Why are they looking at me like that?
Because economy, stupid
They'll understand that. Germans are practical. Infuriatingly so.
Because we really don't mean it in the "we're better" way, but in the "We need to look to our own people first" way. Sure, our current administration blows trade deficits out of proportion and sometimes flat out lies about important economic issues. Sure, their way of going about it could stand some scrutiny (alright, a lot of scrutiny), but the sentiment is valid. Right?
Because we're not talking about isolationism, just maybe scaling back the globalization a little bit until we can sort out the troubles at home. Yes I know we're depending on the world market to an extensive degree, and protectionism is a short term fix, if that. Yes I know our government is selling it as our deliverance from evil, which it is not, but…
Ah, damn.
Stuff the excuses, buttercup
Arguing economy with Germans is like playing table tennis with an octopus. Arguing nationalism with the guys whose grandparents invented flag waving hyper-patriotism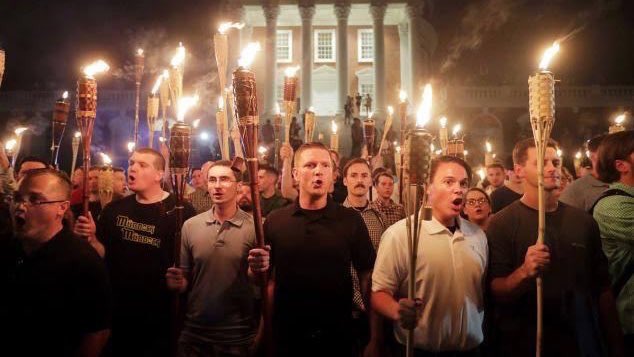 and mood lighting with 1000 torches, is entering a spitting contest with a llama on steroids.
And it would be pointless anyways.
Because it isn't different.
It wasn't different before Charlottesville, it isn't different now.
America First. Deutschland, Deutschland uber alles, uber alles in der Welt.
So, with my capacity for speech restored and my ribs mildly bruised, I cowgirl'd up. Dismissing the first, second, and third sorry excuse my frantic mind had conjured up as the bison-sized dungheap they are, I looked my friends squarely in the eyes.
"It isn't, guys. Not really. Not the way my people are using it right now."
But hear me out…
It's no secret my opinion of the current administration has gone from an unenthusiastic "Meh" about a year ago, to an irked "Do any of them have a clue what they're doing?" around summer, to an all out irate "Government of the people, by the people, for the people, anyone? F*ckssakes!" by now.
Neither is it a secret that I've sworn an oath to defend and uphold the Constitution of the
United States, with my life if need be, and that I damn well meant those words when I said them. That I love my home, right or wrong, and may whatever deity you believe in have mercy on you if you try to harm it. Because you'll get none from me.
But do my hackles rise automatically when I hear "USA!" chants, see people cheerfully wave Old Glory (I do cringe when she's drunkenly dropped in the mud, or pretty airheads – looking at you, Tomi Lahren – think it's OK to cut her up and wear her like a cheap scarf), or when anyone crows about how awesome our country is, and what a marvelous place to be? Hell to the no. Somewhat jaded, cynical battle horse that I am, I still smile at that kind of oh so American enthusiasm.
It's the intent that matters. And that's where our "America First" crowd has gone tragically off the rails.
Not only in their "National Sovereignty over Alliances" approach, because no man is an island, and even a superpower can not stand alone. Not only in their perceived moral superiority, because guess what guys, we've forfeited that for the time being. Not only in their at least somewhat understandable "Economic anxiety" roundhouse kick, because trade is simply never a zero-sum game, and anyone claiming otherwise might want to find a dictionary and look up the word "Recession".
But also, distressingly, in their tolerance, even open acceptance of the "Blood and Soil" crowd, the David Dukes of KKK fame, the white supremacists and ultra-right religious groups; in the legitimizing and normalizing of hatred, blatant racism, and mad conspiracy theories (looking at you, Alex Jones. Gay frogs indeed). When you're listening to these people, really listening, you will soon hear the theme beyond the hogwash. The "Me first! Me first! Only me!" that wraps itself in a patriotic fanfare. In their world, there is no united America that must come first, there is only their respective group. Or rather, they are America, and the rest of us are not. So naturally, being the only real Americans, they must come first, and everyone else may comply or leave at their leisure. Or die. That offer is extended disturbingly often.
Sorry, guys. Mr Duke, Mr Jones, Mr citronella tiki-torch. You're messing with the wrong country.
We are Americans. Our ancestors actually fought a war against would-be dictators. And then another, because we didn't quite get that "Unalienable Rights" with the "Life, Liberty and Pursuit of Happiness" part right the first time around.
There's actually a lot we got wrong during our short existence. But not everything. Never everything.
Unless and until you understand this, that true love sees flaws and accepts them, takes them as incentive to do better, to become greater, you'll never put America first. Until you realize that an ideal is something that can never reasonably be fulfilled, but is nonetheless worth striving for, fighting for, moving mountains for and changing history for, you'll never even glimpse a shadow of what it means to be great. Unless you accept that admitting "we were wrong" is not unpatriotic and weak, but taking responsibility and reclaiming your own humanity, you'll forever be stuck feeling like a victim and carrying silly torches to protest the mean, mean world daring to change and move on without you.
Unless and until you dare to open your eyes and look at this marvelous country we had the impossibly dumb luck to be born to, and see it, see all of it, the ideals we built it on and the countless ways we found and still find to mess up, always getting back up and trying again, trying harder, how can you love it? Really love it, in that stupid, inexplicable, unreasonable way that, yes!, makes you put it First?
"So it is different, and it isn't"
At least, that is how Mr Florian summed up our lively debate, nodding sagely over the foaming crown of his Weizen. I did mention that German practicality, yes?
I'll have Knodel with my Wildschwein, thank you.
"Well, Doctor, what have we got—a Republic or a Monarchy?"
  "A Republic, madam, if you can keep it."
(Benjamin Franklin, 1787)